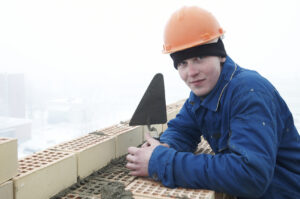 When looking to hire a contractor to do any work on your property it's important to find someone that is properly qualified for the job. You want a masonry contractor that is able to get the job done right the first time around while providing a friendly and reliable experience. Your home is your sanctuary and a little research can help protect that. Here are some top tips to help you find the best masonry contractor in Toronto.
Know what you want. In order to get the very best results you need to find a contractor that specializes in what you are looking for. Even the materials you plan to use for a job will change the right professional for the task. This is easier to know for certain when it comes to repairs, but new construction projects are often filled with more uncertainty. Do some research, and look up images on the web in order to find exactly what you want before selecting the right company for the job.
Turn to friends and family for recommendations. Chances are you know someone who has had similar work completed on their property. Ask them about their experience, whom did they use, and were they happy with the final product? Your expectations may differ from friends and family, and so make sure you like the results as well before using the same masonry contractor. Asking around may also turn up contractors that you wish to avoid. You can also resort to Google, or any other search engine, to turn up a list of local contractors in your area.
Have an eye out for fake reviews. While you are searching the web for lists of contractors you are likely to come across a couple of fake reviews. It's not legal for a company to create false or biased reviews on the web, but that doesn't stop many from doing so anyway. It can be hard to decipher between real and fake reviews but use your best judgment. If reviews don't seem legitimate they are probably not. On sites like Yahoo, you can click on the review to see who left it and what other reviews this person has left in the past. This is often a great indicator if it is a real person leaving a review or someone paid to do so.
Set up an appointment with one or more contractors. You never know for sure if someone will make a good contractor for your project without first having them out on site. Once at your property, you can discuss options, ideas and budgets. This will also give you a feel for the level of friendliness, as well as punctuality a masonry contractor provides. Before the contractor leaves your property, make sure you have a written quote detailing the cost of both labor and materials. This way, if more than one contractor gives you an estimate, you have a quick and easy way to reference and compare options before making your final decision.
Check with the Better Business Bureau. Canada's BBB can be a helpful tool when searching for a masonry contractor. This will alert you to any complaints that have been filed on a company with the BBB. More than a couple complaints with the BBB should raise some serious red flags.
Request to see proof of license. A masonry contractor, or any contractor, should have a license to operate in Toronto. This gives you some peace of mind that the contractor is a professional and knowledgeable choice. Plus, it is illegal for a contractor to work without a license, and leaves you with no protection against poor workmanship.
Price alone should not influence your decision. Everyone is on a budget and so price often impacts the contractor you pick, but it shouldn't be the only thing you consider. Going with the cheapest option might end up costing you more in headaches and repairs than a slightly more expensive, but more qualified, contractor. If a price seems too good to be true, it probably is. If a contractor is able to offer extremely low prices they are cutting important corners in order to do so. Knowing what other contractors in your local area charge for the same work can help you determine if a bid is too low, or too high.
Form a Contract. Once you know what you want and who is going to take care of the job it's time to form a contract. Get the entire scope of the project in writing, along with the estimate, in order to prevent the chance for miscommunication once the project is already underway.
Turnbull Masonry is a leading provider of masonry work in Toronto, Canada. Don't just take our word for it. Do your research and ask us as many questions as you need. We are confident in our ability to provide you with superior service, expertise and final results.