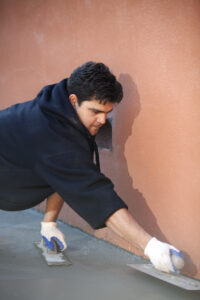 Installing a concrete patio to the front yard or backyard of your home offers a plethora of benefits. For one, this added space serves as a great place to relax, unwind, and even throw a good summer BBQ with your closest friends. Also, a concrete patio provides your home with more value and can make a great selling point if you are considering putting it on the market.
Before adding a concrete patio there are a few thing to consider to ensure your project goes as planned and turns out looking as wonderful as expected. Here we detail the most important factors to consider before installing a concrete patio.
Considering Costs: How Much Does The Average Concrete Patio Cost?
The average cost to install a concrete patio varies considerably depending on a number of factors, including what you plan to use your patio for and how large it needs to be. The amount of prep work, such as grading, that needs to be completed before installation will also influence cost.
A standard concrete patio that measures at or below 200-square feet can cost under $1,000 to install and complete. Although, it's important to also consider the costs of permit and inspection fees required by your local building department.
Is Grading Necessary? Measuring The Slope
Before pouring a concrete patio you must first find out if grading is necessary or else you risk installing a very unleveled patio.
In order to measure the slope of the intended area for your patio you will need to drive stakes into the ground at either end of the designated patio area. You will then attach a string to each stake, and use a line level to make sure the string sits in a straight line from one stake to the other. Then, measure the distance from the string to the ground at each stake.
The distance between your stakes (measured in feet) is then divided by the difference in string height (measured in inches). The result of this equation gives you the slope line in inches per foot. The rule of thumb states that grading is likely necessary if the slope line is greater than 1" inch per foot. (Read more)
How Big Is The Average Concrete Patio? 3 Popular Patio Designs
Patios serve a vast range of purposes, depending on what you plan to use your patio for will influence the overall size it needs to be. Patios can be used for lounging by the pool, hosting an afternoon get together, or serving dinner. The actual size of your home and the space you have to work with will also need to be taken into consideration. Three common patio designs include:
Outdoor Dining Patio
If you plan to use your patio as a place to serve meals you may want to consider an outdoor dining patio. The average dining patio measures 12-14 feet, which can comfortably accommodate a 48" round table. Remember, the chairs need enough space to pull out from the table and still allow people walking room to get around. Depending on how many people you plan to host around this table on a regular basis, the size of your overall patio may fluctuate up or down.
Sundeck Patio
A sundeck provides a cozy place to lounge and enjoy the feel of the sunshine on your skin. The average sundeck accommodates 2-4 lounge chairs, which will take up around 2-6 feet. You will also need to figure in about 3 feet of extra space for a walkway between and around the chairs. Cocktail tables are another staple feature of sundeck patios requiring consideration prior to picking the dimensions of your patio. If your patio is located near a swimming pool, you may want to increase the clearance room in order to avoid any unintended 'splash zones.'
Living Room Patio
An outdoor living room is a popular addition to homes nowadays, although these types of patios require the greatest amount of room. Outdoor living room patios commonly include fireplaces, outdoor couches, center and side tables, as well as a number of lounge chairs. The standard size of a living room patio measures a good 16-18 feet.
DIY Or Hire A Professional To Install Concrete Patio?
Many homeowners consider installing their own DIY patio in order to save some money in labor costs. In some instances this may be a good way to cut costs, but only if you have experience mixing and pouring concrete. If you have never taken on a project like this before, it might not be best to start now. Leveling, setting up an appropriate base, and mixing a solid concrete takes experience and previous knowledge. It might seem simple enough but there are a number of ways it can all go wrong.
Before starting a concrete patio project, it's important to know which concrete mix will work best for you. Find out here
Are you looking to install a concrete patio? Contact Turnbull Masonry today for a competitive quote and superior results!